Alliance Rifle Club


Awards


Alliance Chamber of Commerce Friend of Tourism Award

At the January 31, 2013 annual award ceremony the Alliance Rifle Club was recognized for their ongoing contribution to the economy of the area through the club matches, gun shows and training.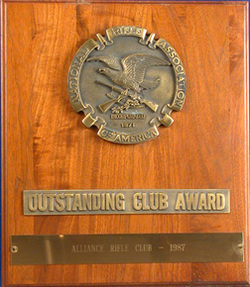 The National Rifle Association selected the Alliance Rifle Club as the
NRA's 1987 Outstanding Club.
This is the highest recognition a club can receive from the NRA.
Competition for the 1987 award was very tough
with 62 clubs across the country competing.
Read the story of the Award
(Opens a PDF File)
---

Nebraska State Rifle and Pistol Association Award

Glen Fiebig was presented with a plaque for the Alliance Rifle Club at the 1990 Annual Convention of the NSR&P. The award was given for the outstanding achievement by a Nebraska Club.