Rules to Follow On ARC Ranges
Click Here
#1 Be Safe
#2 Have Fun
---
The Alliance Rifle Club was organized shortly after WWII.
We have been NRA affiliated since May 26, 1949.
We have two ranges east of Alliance, Nebraska.
Hoffland Range is an outdoor range with a 1000 yd. pit and covered firing line. This range was started in 1985 and named after a town that used to be located in the area.
​It is mostly used for organized matches. The trees that have been planted on the Hoffland were named the Erv Huber Memorial Forest March 3, 2008 to honor him for all the work he did in planting and watering the trees.
Glen Fiebig Range land was purchased May 25, 2007 and opened July 2007. The range was named in honor of Glen Fiebig for his many years of service and contributions he has made to the Club. This range is open to all members.
---
​




---
Alliance Rifle Club Gun Show


Location:

Eagles Club,

1502 West 3rd St., Alliance, NE 69301

In case you missed the winter gun show, we have a few pictures

for you to view so it's just like you were there.

Thank you to everyone who attended, the vendors make the show

a great event and the volunteers who ensure the success of the event.

​


---
Alliance Rifle Club Meetings

​​Monthly Meetings are held the 1st Monday of every month at 7:30 p.m.

​Meetings in July on 10th and September on 11th due to holidays

April 3rd, 2023
​Time: 7:30 p.m.

Regular meetings are held at:
Ackerman AG Services and Supply
115 Cody Avenue, Alliance, NE.
The Alliance Rifle Club annual meeting for 2023 was held at the

Alliance Masonic Lodge.

January 28, 2023

Time 7:00 P.M.

123 W. 3rd ST. Alliance, NE 69301



---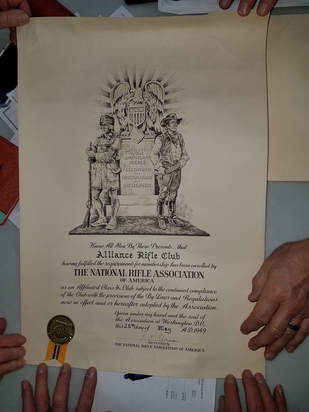 ---
ARC is always updating and improving the ranges. This is the new Fiebig Range cover on the 25 yd. range.
Got some of the young guns to help with the heavy work. Finished work looks great.
Thanks to Zack Nelson, Dave Covey and their crew and supervisors Jim Bourn and Steve Miles, things went really well. Thanks to all who helped! Stop out and check it out.
---
Checkout our Facebook page
Right here folks!
You can click on the link above or search it by typing in alliancenerifleclub.
(Note the ne after Alliance)
---

Copyright 2002 – 2022
All rights reserved.