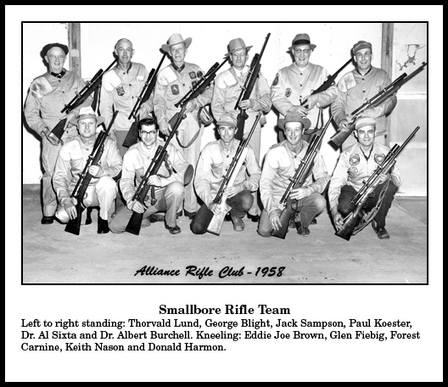 Smallbore Rifle Team - 1958


Left to right standing:
Thorvald Lund, Geroge Blight, Jack Sampson, Paul Koester, Dr. Al Sixta and Dr. Albert Burchell.

Kneeling:
Eddie Joe Brown, Glen Fiebig, Forest Carnine, Keith Nason and Donald Harmon.
---
Panhandle Rifle League

Alliance Smallbore


Rifle Team 1989-90

Pictured left to right:
Back row: Scott Ducker, LeRoy Fry, Bob Pickering, Glen Fiebig, Gene Ducker, Steve Lickliter, Wade Kendle

Middle row: Chris Mischnick, Rusty Kendle, Lori Huber, Janice Rader, Diane Lickliter, Gene Radar

Front row: Brandy Ducker and Lydia Stewart

Not Pictured: Royce Brown, Gil Davis, Wendell Fairbanks, Justin Grant, Don Sheldon, Pay Synak and Joe Mack

Alliance had 22 shooters who fired scores for the team 1989-90 season. The Alliance Team ended the season with a record of 11 and 5. On March 1, 1990 the Alliance Team broke their own record for high score by shooting team score of 1971 (out of a possible 2000). The Alliance Team had the High Team Average for the Panhandle Rifle League for the season with a 1944.44.

The Panhandle Rifle League had 60 shooters this season with teams from Alliance, Bridgeport, Crawford, Ft. Laramie and Scottsbluff. Teams competed in four-position smallbore rifle matches.
---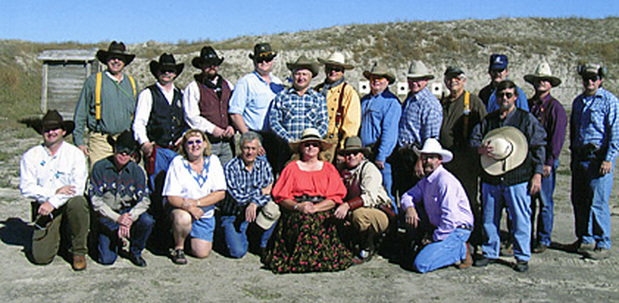 1st Annual

Howard Park

Cowboy Match

on October 3, 2004
---